Arctic Warriors spells virgin Lappish nature
Arctic Warriors is a brand of natural products that represents the pure and pristine nature of Lapland.
The products are healing, tasty and strong, thanks to the extreme cold in the winter and the nightless nights of Lappish summer producing the unique Arctic natural ingredients in the northern Finland.
The key Arctic Warriors products are Taistelija (Endurance), Puolustaja (Defence) and Energia (Energy). They are produced from roseroot-ginseng of the north, Angelica – holy herb of Sämi. Products are packed as gel and honey shots as well as in bottles.
The Lappish herbs have always been known for inducing strength, energy and resistance.
The company now procures the herbs from nine different sources in Rovaniemi, Kemijärvi, Ylitorni, and Sodankyä.
Arctic Warriors started its business from the small village of Narkaus in Rovaniemi.
"Our goal was to introduce the best quality natural products to the international consumers. The pure and clean nature of Lapland is very unique and not found anywhere other than the arctic region," Arctic Warriors CEO Ilkka Kauppinen told.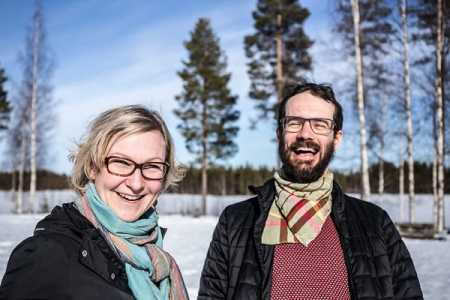 The Chairman Katja Misikangas (on the left) and the CEO Ilkka Kauppinen in their own premise in Rovaniemi.
The company now manufactures five different products and plans to expand the range to 10 products by next January.
Arctic Warriors wants to revive farming in the region to get the powerful natural ingredients in their purest form, said Kauppinen.
"We want to change the scenario and encourage the farmers to produce herbs. One of our main goals is to improve the livelihood of the farmers in the remote areas of Lapland and to create new job opportunity," said Katja Misikangas, chairman of the company as well as its product manager.
Misikangas said the quality of the products is ensured with extensive research and experiments in the company laboratory.
The quality of the products is ensured with extensive research by for example Institute for Natural Resources in Finland, as well as by experiments made in company's own premises in Narkaus.
The company started to export its products just six months into its commercial operation. Kauppinen said the volume of exports is still small. "Now we are exporting to Hong Kong, Germany and Norway."
But negotiations are on to establish new markets in the Asia and also in the Europe. The products are also sold online by two online shopping platforms.
"We are going to open our new web shop soon and anyone will be able to order our products from our online shop from next autumn," said Kauppinen, adding they target to increase their business volume to 2.6 million euros by 2020.